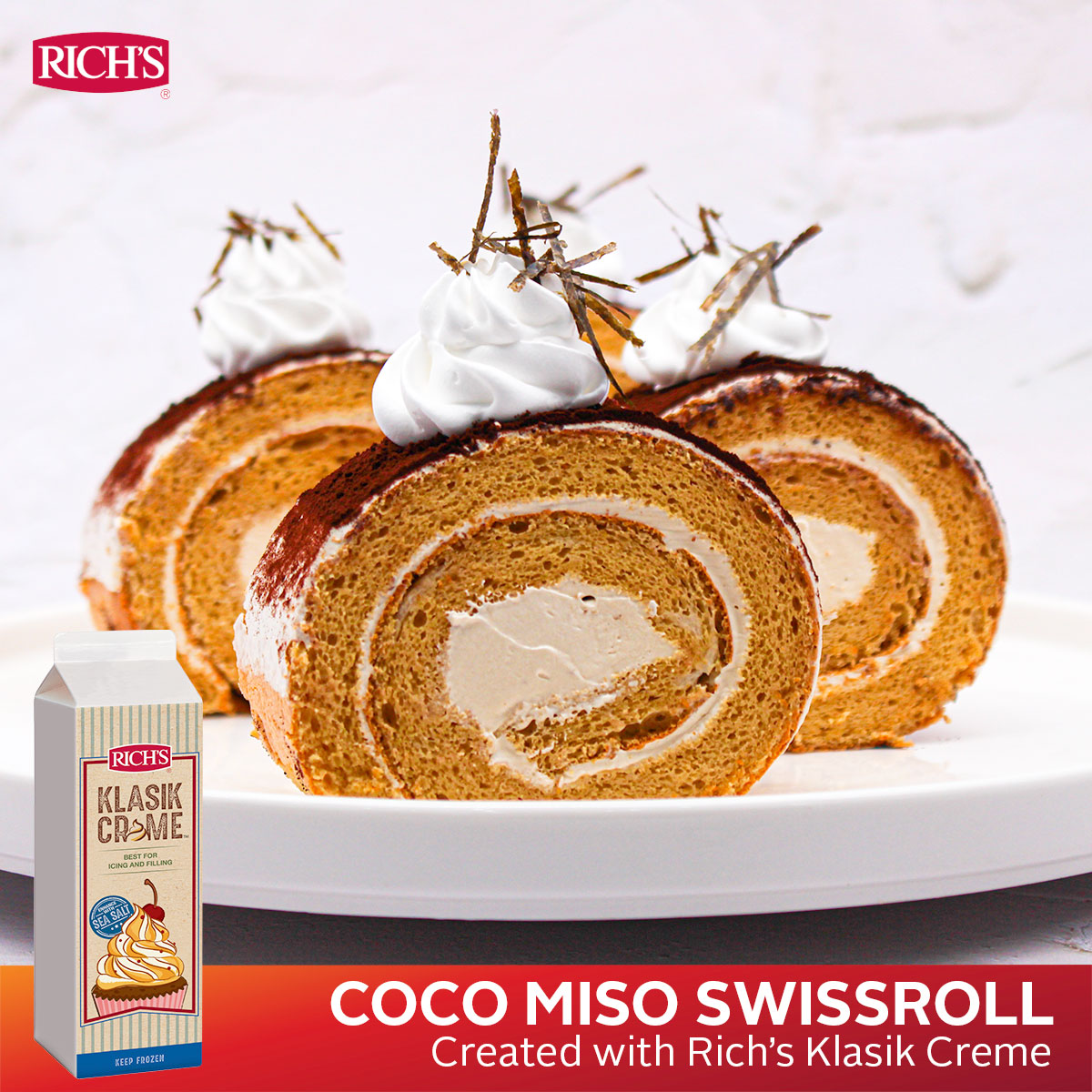 Ingredients :
Miso Cake Batter :
Cream cheese 250gm
Sugar 50gm
Japanese Red Miso 60gm
Milk 250gm
Avoset Whipping Cream 100gm
Cake flour 95gm
Corn flour 25gm
Egg yolk 160gm
Egg white 300gm
Sugar 160gm
Cream of tartar 2gm

Soy Creme :
Rich's Klasik Creme 400gm
Japanese soy sauce 50gm

Decor :
Anti moist cocoa powder (as needed)
Make Up Procedure :
Miso Cake Batter :
1. Blend cream cheese, sugar, milk, miso and Avoset Whipping Cream until smooth.
2. Add in cake flour, corn flour and egg yolk and blend until lump free.
3. In a separate bowl, whip egg white, sugar and cream of tartar into meringue.
4. Fold blended mixture into meringue.
5. Spread cake mixture evenly onto a baking tray.
6. Baking temperature : 180°c top heat and bottom heat.
7. Baking time : 15 to 17 mins.

Soy Creme :
1. Whip Rich's Klasik Creme and soy sauce until soft peak.
Assemble :
1. Spread a layer of soy creme onto the miso cake.
2. Roll up to form swiss roll.
3. Spread a thin layer of soy creme onto swiss roll surface.
4. Dust with cocoa powder.
5. Portion into equal slices.